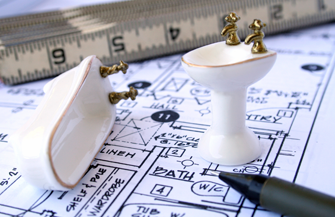 Whether you are a Contractor, Home Builder or a Homeowner, White Hall Plumbing & Hydronics is the company you want for all of your projects including; Remodeling, Additions, Town Homes , Single Family Homes and Large Custom Homes. White Hall Plumbing & Hydronics has developed relationships with some of the area's largest home builders and contractors, over t he last 15 years and there is a reason they continue to use us for all of their jobs.
Our responsibility as your construction plumbing company is to ensure the quality and integrity of the work by conforming to county plumbing codes and strict adherence to specifications of the project. We make sure the plumber arriving to your job is knowledgeable on the scope of work , has the material needed to complete the project and understands the time frame needed to complete the job on time.
Our Residential Plumbing experience and expertise are unexcelled!
The White Hall Plumbing & Hydro nics Residential Division looks forward to working with you on your next project!
Our Residential Portfolio includes ( not limited to):
Town Homes
Single Family Homes (300k – 500k)
Single Family homes (500k – 1.5m)
Villa 's
Additions & Remodeling on all of thee above